Thursday, July 22, 2010:
Eric: How about using your affection for True Crime as a jumping off point for one of your blogs?
Me: The only vegetarian criminals who come to mind are the Manson Family and Hitler, and those two subjects are really played out. A blog about Victorian poisonings would also be unappetizing. I don't like True Crime because I like glorifying criminals through food blogging. I like it because I'm fascinated by detectives and lawyers. Is Vincent Bugliosi a vegetarian?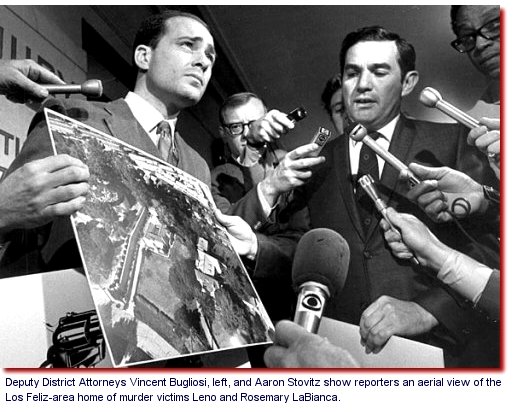 Thanks to http://www.metnews.com/articles/2008/bugliosi_stovitz_12-69.jpg
Eric: What about reviewing those pizza places in Cleveland Circle?
Me: That's probably a better idea.
Pino's Pizza, Cleveland Circle, Brighton
Eric and I walked out of the rainy Boston day, and into the relative calm and quiet of Pino's Pizza in Brighton. Although the outside of the restaurant boasted a gloriously tacky and obviously unrestored 1950's beach-boardwalk style sign, the inside of the restaurant was bright, clean and surprisingly contemporary. We decided to order the 2-slice, 1 drink cheese pizza special. We grabbed our slices and drink and headed to a booth.
The crust was possibly the crispiest crust I have ever tasted. (Possibly because, as is standard procedure in most restaurants selling single pizza slices, the slices were taken from a pre-made pie and reheated to order.) The cheese and sauce were both fresh tasting, but a little on the bland side. It tasted better than the average Papa Gino's slice, but no flavors particularly stood out. I took a quick bite, and added Parmesan cheese and pepper to my slice, as is my habit. The slices were generous, and the pizza folded well, which made for easy eating. I was also pleased to note the comparative bounty (for an unyuppified Boston-area sub shop) of vegetarian sub and pasta options on the menu. We left feeling relatively full and satisfied.
Presto Pizza, Cleveland Circle, Brighton
The exterior of Presto Pizza is unremarkable, but the inside of the restaurant, with its gigantic tree, Tiffany lamps, and 1982 World Cup soccer posters, is a little reminiscent of the
Regal Beagle
. Once again, we ordered the six dollar double-slice-and-one-drink special, and once again we retired to a booth table with various condiments. I was impressed by the Parmesan cheese on offer, it was hard to get out of the container, but that was because it was fresh grated. It had a wonderfully creamy, nutty taste that added to the general garlicy-olive oily*, just-a-hint-of-basilish flavor of the pizza. The slices were so big, they wouldn't fit on their paper plates and ended up touching the table in a way that bothered me a little bit.
Eric and I agreed: if Presto was busy, going to Pino's wouldn't spoil the night. However, Presto had the better slice by far.
*Presto Pizza is noticably more greasy than its competitor.